include( "../../honobono-inc/header.php" ); ?>
"software true color"
Highest Quality Playback
for DirectShow (MKV/OGM/AVI etc.)
This article is outdated. The information is not up-to-date.
24 August 2005 - MKV Quick Help (also for AVI playback)
The Star of Cottonland [h-b] 7 languages [1B5836F0].mkv is a Matroska (MKV) file. It is softsubbed in 7 languages, and you can switch the subtitles.
How to play it on Windows 2000/XP: Gabest's Media Player Classic (MPC) is recommended, but you can use Microsoft Windows Media Player 9/10 too. ZoomPlayer should work too. Install Lazy Man's MKV unless you want to use Haali's splitter (if you are not sure, just install Lazy Man's MKV). BsPlayer is buggy but may work with Haali's splitter. ffdshow is recommended, but you can use XviD decoder too.
For the best result, try true color by checking only RGB32 and RGB24 in the ffdshow video decoder settings (Start | Programs | ffdshow | video decoder configuration | Output).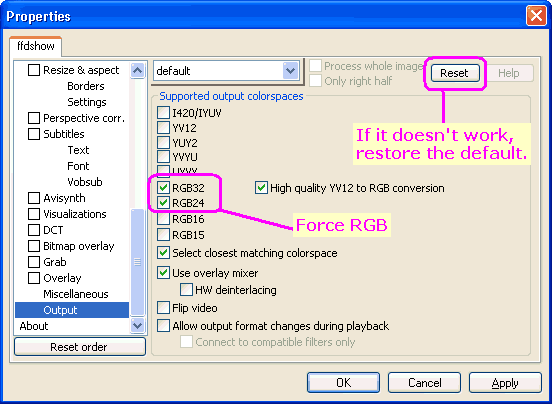 If your CPU is powerful enough, try VMR9 (renderless) on MPC; otherwise use Overlay Mixer. (Hit [o] to open the Options box on MPC.) VMR7 is not bad either on Windows XP. Don't use VMR 7/9 on ZoomPlayer.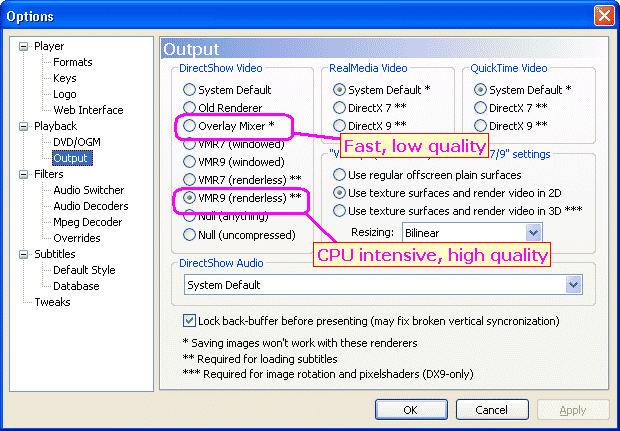 VMR9 (renderless) enables MPC's internal sub renderer, which is the highest-quality especially in the full-screen mode. However, you might want to check this checkbox so that the reuslt will be compatible with VSFilter (DirectVobSub).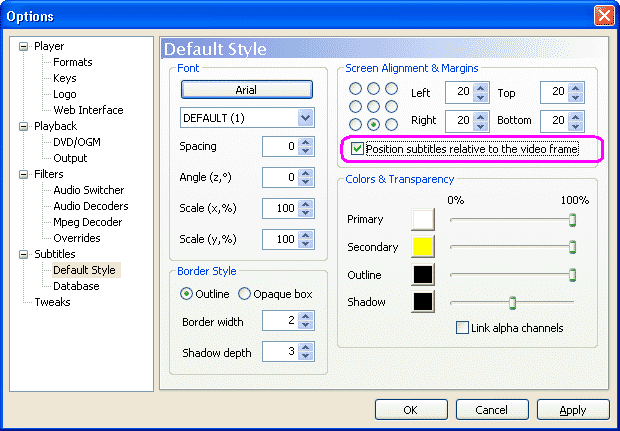 Also, if you are going to use MPC's sub renderer, you should disable subtitles from VSFilter: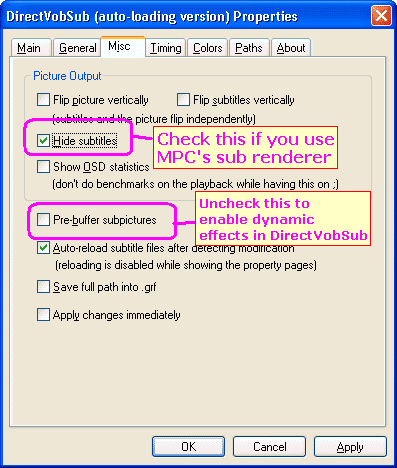 If you use VSFilter, unchecking "Pre-buffer subpictures" (see the picture above) will enable dynamic effects such as fading, karaoke (not as CPU-intensive as MPC's renderer). On MPC, Number of subpictures to buffer ahead (see the picture below) is 3 ~ 6 by default. If your CPU is really fast (2GHz+), set this value 0, and dynamic effects are enabled in softsubs.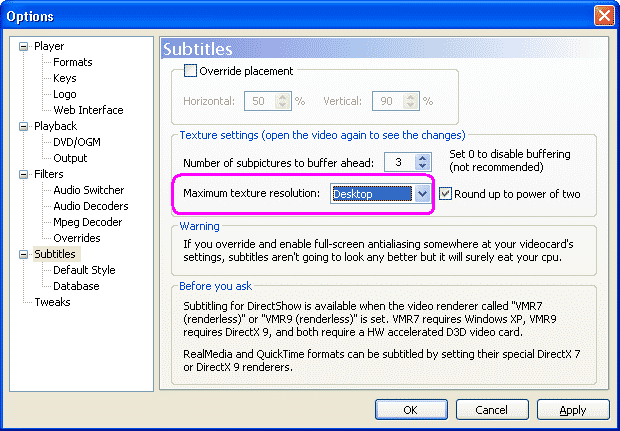 For the best result, Maximum texture resolution should be "Desktop" but if your CPU is not very fast, use smaller values.
To get the easter-egg wall papers, hit [Shift]+[F10] on MPC, or use the shell extension.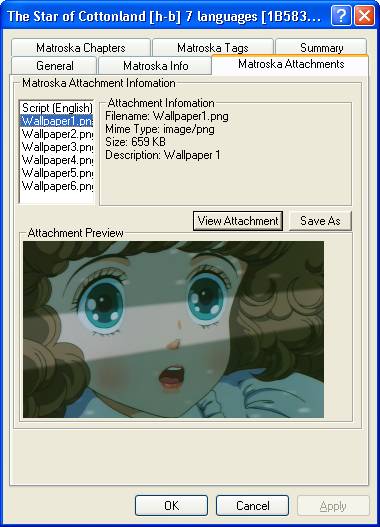 See also:
Highest Quality Playback w/ VMR9 mode
and Forum posts

---
---
If you have any questions (FAQ), comments,
or if you're interested in joining us fansubbing together,
feel free to visit us or email us at the following address. Thank you!


(PGP Public Key)
[Fingerprint: 821C DADD 2C25 C86C 1754  6412 DD33 0238 68B5 8C64]
Also, you can leave comments on [AniDB], [Nyaa], or [BakaBT]
though we may not notice them immediately.
 Our website is Tor-friendly & JavaScript-free.